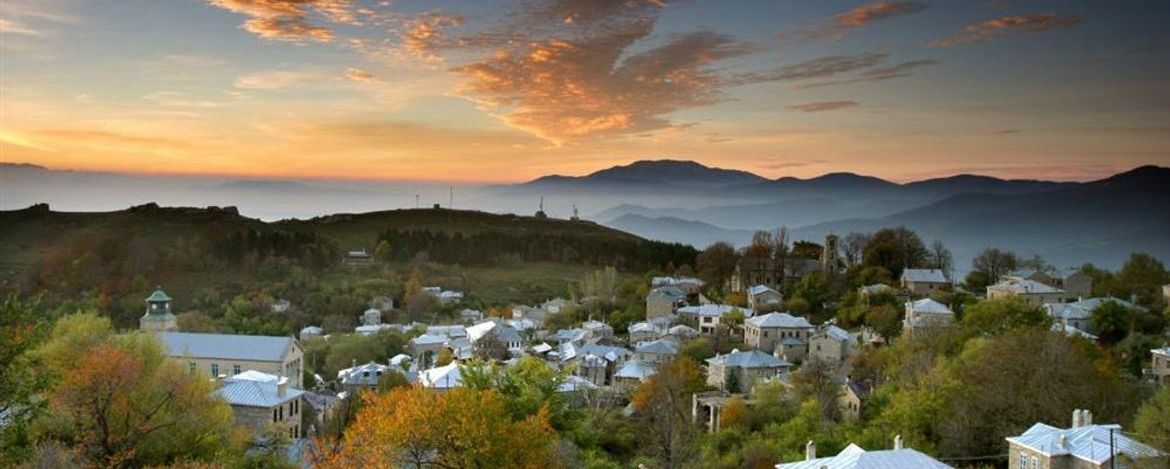 Right out of a fairy tale
Kontogianni Guesthouse is situated in a beautiful old village up in the mountains of northern Greece. It is surrounded by thick forest of beech trees, very friendly for walks, home to a vareity of plants and animals. It is exceptionally well preserved and quiet. Usually, the only sounds to be heard are those of a dog barking, birds singing and water running from the springs. This place is like a setting from a fairy tale, the time has stopped in older times when the buildings and the roads where made from stones and with a very special architecture –mansion style- which is still the same. 
Location
Nymfaio is a village situated on a plateau at 1350m of altitude. It became known for the beautiful architecture and the peaceful beech forests that surround it. Its 150 year old stone mansions and paved streets, are unique in Greece. The whole village has been award for its mild tourist development from the European Union. In the surrounding area you can explore the majestic nature through different outdoor activities. Υou can easily use the village as a base to explore, interesting archaeological sites, Byzantine monasteries and churches, wineries, which are within a radius of 80km and with a great importance. Finally the distance from the airport of Thessaloniki is about 180km.
Details
Our's is a small homey guesthouse, owned and managed by the family. It's built with stone and decorated with local artifacts and wool rugs that create a very warm and relaxing environment, ideal for leisure afternoons and friendly talks about, well, anything! We enjoy communicating with people ! In each one of the four Kontogianni residences there are different individual furnished twin-bed rooms and family rooms with Self-Catering Kitchen and fire-place. 
Special Group Offers

The hostel can also be booked for groups. Please contact the hostel directly.